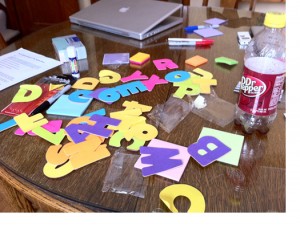 The most exciting thing about gamestorming is the creativity it allows me. I'm essentially freed to create an experience perfectly suited for my audience. Because while the games the folks at Xplane have created are effective, they are still just "old standards." They are like Monopoly® or Scrabble®. Everyone can play and everyone can enjoy. But when a game is created specifically for a situation or an audience, it can be truly magical and memorable
Recently I went to run a gamestorm for a friend. After years at an agency he helped found, he allowed his partner to buy him out and was now questing for the 2.0 of his career. So while many of the suggested games may have worked, the personal nature of his need to uncover his true passion and brand demanded something more.
Now this friend is also a musician. Okay, let's face it — He's an old hippie musician. He used to play in bands in the 70s, still shreds a mean guitar and quotes lyrics from America and stuff. So I knew that a game involving music would both intrigue and inspire him.
But music was just a mechanic. The game still needed structure. That's when the idea of creating a game structured around a comeback album came to me.
Just like when creating songs, we would start out with what inspired us. We'd stay focused on business, but we'd talk about both our personal and professional inspirations. And from that we would derive the basis of song ideas or "riffs". Then we'd group these elements into "chords" (artifacts), arrange our chords into "progressions" (nodes), create  "songs" (pattern recognition and door closing) and then identify our formula for a hit song (end game or goal).
Here's a glimpse of the game we worked from:
The Comeback Album of The Decade Game
Object:
Famous rockstar agency principle and creative god, [redacted], has had a long and distinguished career in the classic rock powerhouse group, [redacted]. Now he finds himself out on his own ready to recast himself into the next chapter of his career. He's in the planning stages of his big comeback album and we need to help.
The game will be broken into five distinct parts.
We will determine what riffs we want to hit (one hour)
We will establish "chords" for those life notes (half hour)
We will arrange the "chords" into hot progressions (half hour)
We will play with possible "songs" (half hour)
We will identify our formula for "hit" songs (half hour + after game assessment)
Part I:
Finding our Riffs: We put on post-up's everything that we love in life and in marketing, whether we have done it or not. These will form our riffs for the song. This is beyond expertise. This is about the expanse of what we want stand for in life and work. (60 min)
Part II:
Next we will group the ideas into common themes and see what initial patterns are observed. We will also identify outliers and eliminate them from the discussion. Then once grouped, major idea groups will be assigned major power chords, while supporting idea groups will get minor chords. (30 min)
Part III:
Next we will arrange our chords into logical progressions and test to make sure that the chords work well together. As a mnemonic we will use actual guitars to test the chords and make sure the progressions make sense musically and make adjustments as necessary. (30 min)
Part IV:
We will then take items from each grouping to form our songs, mixing and matching across each progression to understand how each progression works and what it means to the song as a whole. Guitars may be used to play our songs. We will then test how one progression leads to the next and arrange the progressions in order of importance or impact. (30 min)
Part V:
We will finally have our discussions to start closing off the loops and identifying what is working best in an attempt to create our hit formula. Will use star-shaped post its to boil down the intent of each progression into an even simpler idea. The result being the "anthem" or brand essence of this new band will be. (30 min + after-session assessment)
Out of respect for privacy, I won't share many details about how the game ran. But I can tell you that the day was a phenomenal success.
Using off-the-shelf post-up notes, post-up letters (to represent the chords), markers, star-shaped post-ups (to indicate our "hits") and guitars, we were able to set aside the concerns of what he should be doing and get focused on what he should be feeling. In fact, the biggest patterns that emerged had nothing to do with the services he wished to offer. Instead, we found themes about ethics and employee relations that defined his personal fulfillment as coming more from being a leader than a doer.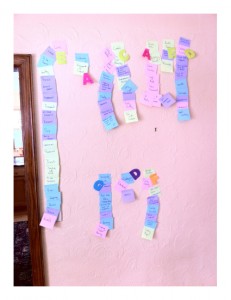 Now I don't want to fool you here. This game did not run perfectly. It was the first time I ran it and I changed plenty on the fly to keep it fresh and alive. When running a new game you have to expect things not to work. It also felt like there was a dead spot during the song writing because my own energy was flagging. (Note to self: afternoon pot of coffee and maybe skip lunch.)
But ultimately the game's success is determined by the players enjoyment, not the game master's sense of accomplishment. And on that front, it was a raving success. My friend could not tear his eyes off the wall. He wanted to keep it up for a few weeks just to contemplate it. And after I wrote my assessment and emailed it to him, I could see why. There was real direction hiding there in terms of what his next steps should be.
I also learned a valuable lesson about gamestorming. Since the concept was developed by artists, the examples of play given in the book lean toward the visual. But there are all kinds of games. And in our case, the game was auditory.
During our game there was a lot of repeating themes out loud and listening to them in musical form. The visual was still present, but the game was designed to stimulate the ears. And the resulting insights were things that needed to be said, rather than seen.
For me, this understanding of game structure helps me understand that there are five senses present with any player. Taking advantage of these senses in game structure and leveraging the most applicable ones, will always make the game more relevant and memorable.
Bob Knorpp is a marketing and advertising strategist. He is host of Ad Age Outlook and The BeanCast Marketing Podcast.