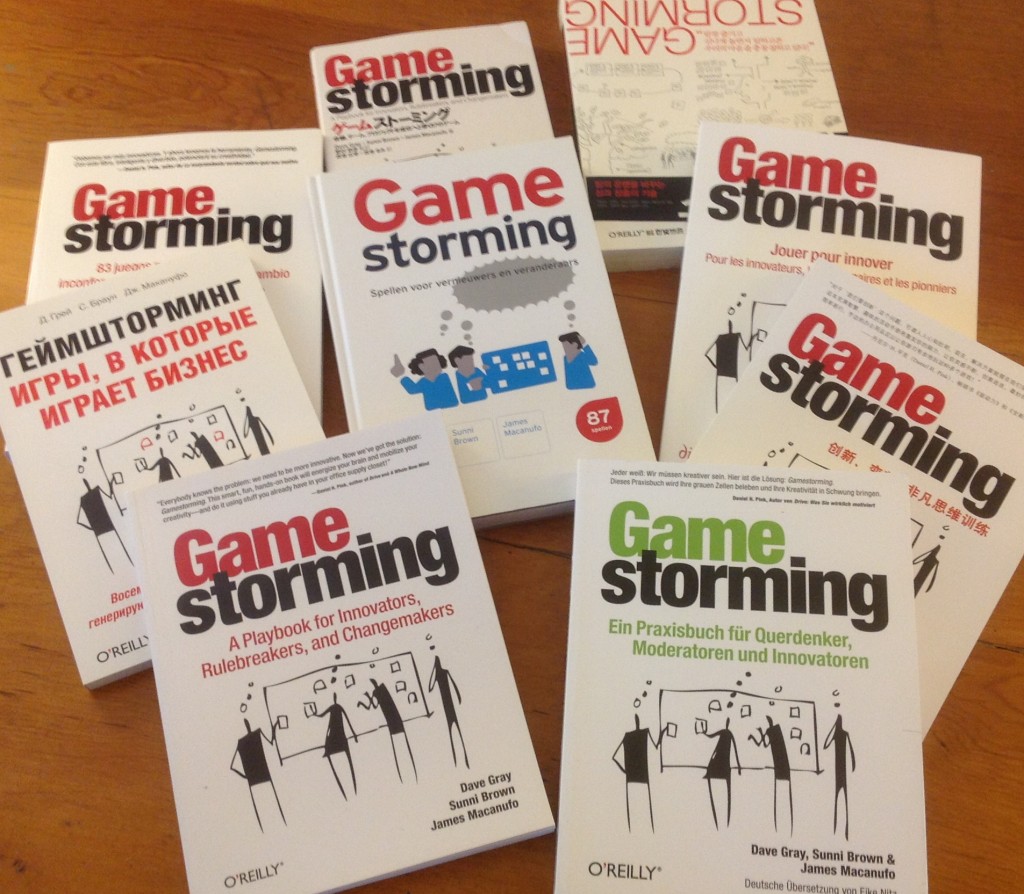 WHAT IS GAMESTORMING?
Think back to the last time you played a game. What was the game? Why did you choose to play? Was it a simple game like tic-tac-toe, or something more complex, like Monopoly, Scrabble or Chess? Or maybe it was a game of basketball? Did you play with friends? With family? Try to recapture the feeling you had as you played the game. How did it feel? Would you like to have more of that feeling at work?
Games come naturally to human beings. Playing a game is a way of exploring the world, a form of structured play, a natural learning activity that's deeply tied to growth. Games can be fun and entertaining, but games can have practical benefits too.
This blog is about games designed to help you get more innovative, creative results in your work. We'll show you not only how to play them but how to design them so they fit your own specific work goals.
REVIEWS
Chris Brogan video review of Gamestorming:
"Most organizations would welcome more innovation, a greater ability to change and a more fulfilling and fun culture for their employees. This book is probably the fastest and easiest – and most economical – way to make that happen." Read the review at Research 2.0.
"If you are a business owner or manager who wants to look at things in a new way and sharpen innovation in your company or on your team, Gamestorming is an excellent resource for you." Read the review in CanadaOne Magazine.
"If you're a facilitator, corporate trainer, a team leader or in a creative role within a company, I'd say that this book will be valuable to you and that's it's worth checking out. A definite 8/10 and recommended." Read the review at Broadcasting Brain.
"Gamestorming… teaches you how to fish, so to speak, instead of just giving you a formulaic set of rules and procedures. Best approach to game design writing I've ever read on the subject, flat out, this is really good stuff." Read the review by Gregg Fraley.
"As I put the book down I find my mind racing, filled with a sense of excitement, eager to "play" the games that'll create new ideas, solve problems and improve our business." Read the review by Adam Davidson.
"Considering the actual "instruction" part of Gamestorming is only 52 pages, I took a crazy amount of notes as I read through it. Perhaps this speaks to the uniqueness of this book. Perhaps it's a reflection of how many ideas it sparked for my own life and business. Regardless, I can comfortably say that it's been a while since I so enjoyed reading a business book." Read the review by Chris Taylor of Actionable Books.
"This is a really smart book. Buy it and it is going to come in handy for that next workshop you need to run. Just don't forget to leave PowerPoint behind and bring pens and paper instead!" Read the review on Just a Tech blog.
"This is an unprecedented collection of tools and strategies that anyone can use to examine challenges deeply, explore new ideas, for performing experiments and testing hypotheses, and for generating new and creative insights and results." Read the review on Innovation Tools.
ABOUT THE GAMESTORMERS
Dave Gray is the founder and chairman of XPLANE Corp., an information design consultancy serving Fortune 100, NGO and government clients around the world, and co-founder of Vizthink, a global community dedicated to the use of visualization in all forms of learning and communication. An artist, journalist and information designer, he is passionate about applied creativity.
Sunni Brown, M.P.A., is Owner of BrightSpot Info Design, a company specializing in visual thinking to support organizational and group success. Sunni was trained in graphic facilitation at The Grove Consultants International, a San Francisco-based company that pioneered the use of visuals in meetings and group processes. She is currently an Associate of The Grove, a freelance consultant for XPlane – the visual thinking company – and an Associate of Alphachimp Studios. She is also co-Founder of VizThink Austin, currently the largest visual thinking community in the United States. She is pleasantly surprised by her recent client list, which includes Disney, Zappos, and Duarte Design/TED Conference, and when Sunni was featured in the Austin-American Statesman and The Hindu (India's national newspaper), she scratched her head in confounded but happy amazement. Sunni presents regularly on the topics of graphic recording and visual thinking and is in the process of co-authoring a playbook with Dave Gray and James Macanufo on applying visual thinking techniques to meetings. Sunni holds Bachelor's degrees in Journalism and Linguistics and a Master's in Public Affairs from the Lyndon Baines Johnson School of Public Affairs. She lives in Austin, TX.
James Macanufo is a senior consultant at XPLANE Corp., where he works with clients around the world using visualization to help them unravel complex challenges, develop solutions and implement change.